2022 SEASON
President: Rosella Mirabelli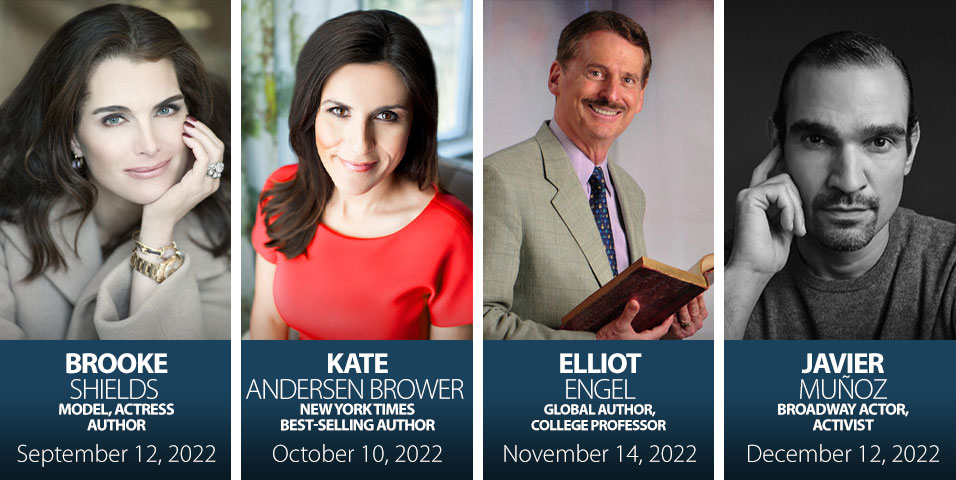 Season tickets consist of four performances with the option to attend a luncheon directly following the event.
All performances begin at 10:30am at McMorran Place Theater.
Port Huron Town Hall Series Ticket Information and Sales
Season Tickets consist of four performances. Each year, Port Huron Town Hall Patrons eagerly anticipate the announcement of the next year's lineup of Speakers at our February performance. If you would like to keep your current season seat, your application must be submitted no later than the second Friday in April. Season ticket requests are available throughout the year but those received after the deadline are filled with the best available seats until all tickets are sold. Applications for series tickets for the following season are available for purchase after our last performance in December. Ticket orders are processed in the order received. Season Tickets may be purchased by completing this application.
Tickets can be purchased:
In person at: McMorran Box Office
By phone: 810-985-6166
By mail: Printing application form and mailing it to McMorran Box Office
Coming soon you will be able to purchase your season tickets online. Watch for more details.
Prorated series and individual lecture and/or luncheon tickets are limited but will be sold subject to availability. Please call for pricing.
Please note: speakers, dates, and program times are subject to change.
2022 Season Ticket Prices (all U.S. funds):
| | |
| --- | --- |
| Main Floor | $135.00 |
| Main Floor plus Luncheon | $260.00 |
| Balcony Seat | $120.00 |
| Balcony Seat plus Luncheon | $245.00 |
A $5.00 processing fee will be added to each series ticket sold
Please make checks payable to: City of Port Huron Recreation Department
Credit Cards Accepted

No Refunds
Celebrity Luncheons
---
Enhance your experience by attending a luncheon with the speaker after each lecture. The luncheons offer an up-close and personal visit with the celebrity and provides an opportunity to have your questions answered. Luncheon tickets are available to season ticket holders only and space is limited. Don't miss out on this unique opportunity, sign up today.
Refunds are not available.
All Luncheons for the 2021-2022 Season will begin at 12:00 p.m. and are held at:
Port Huron Golf Club
4101 Fairway Drive
Fort Gratiot, MI 48059

If those holding a luncheon ticket are unable to attend, they may transfer their tickets to another Town Hall ticket holder.
Luncheon ticket holders may park at the Port Huron Golf Club and ride the shuttle bus to and from McMorran Theater for a nominal fee.
If you have further questions, view
FAQs
or
Contact Us
.